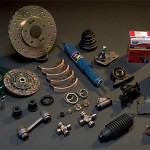 We specialise in breaking and dismantling a wide range of  models for quality used car parts and spares. Our stock of breakers parts includes full engines, gearboxes, electrical and mechanical suspension parts, leather and cloth interiors, body panels, alloy wheels and lights covering most makes and models.
At Lydd Car Breakers we have thousands of cars pass through our gates each year and as a result we have a great collection of used car parts. We literally have thousands of scrap car parts from a range of different vehicles. We are sure that we will have something just for you and buying used auto parts with us couldn't be easier.
To be able to offer such quality scrap car  parts we work tirelessly to instill the best recycling methods as possible. This means we can provide parts that are clean and in good working condition.